A novel viewpoint on the dating scene can be found on the hit reality program "Love is Blind," which can be seen on Netflix. A group of people of both sexes is situated in separate pods. Yet, they can have conversations with members of the opposite sex without looking at one another. According to Glamour, they form friendships, and many couples get engaged while still in the pod.
While some couples have shown that it is possible to fall in love without ever meeting someone, we know from the first two seasons that this is a rather rare occurrence. In each of the show's two seasons, there were a total of twelve engaged couples, and there were a few other couples who were engaged but were not featured on the show.
Many of the couples' love stories seemed to be picture-perfect while they were still in their isolation pods; nevertheless, once they saw one another in person, some quickly turned into nightmares for the spectators.
The story "Love is Blind" comes to a close with the engaged couples attending their wedding day and deciding whether to be married or split up as they are standing at the altar. After two seasons, how many of the twelve engaged couples are still together? Out of the few couples who actually made it down the aisle and exchanged vows, how many of those couples are still together?
There is a possibility that Love is Blind is an efficient dating test.
Regrettably, having desire isn't enough to get you very far on its own. At the time this article was written, just four couples that had a genuine connection when they were in the pods were still together. According to Glamour, after the cameras stopped filming during the show's first season, just two of the contestants who were really blind managed to stay alive.
Cameron Hamilton and Lauren Speed Hamilton are a member of one of the pairs. Not only did they get married on the show, but thereafter they went on to have even more success as a pair in other areas of their lives. They also published a book about love in 2021 under their own name.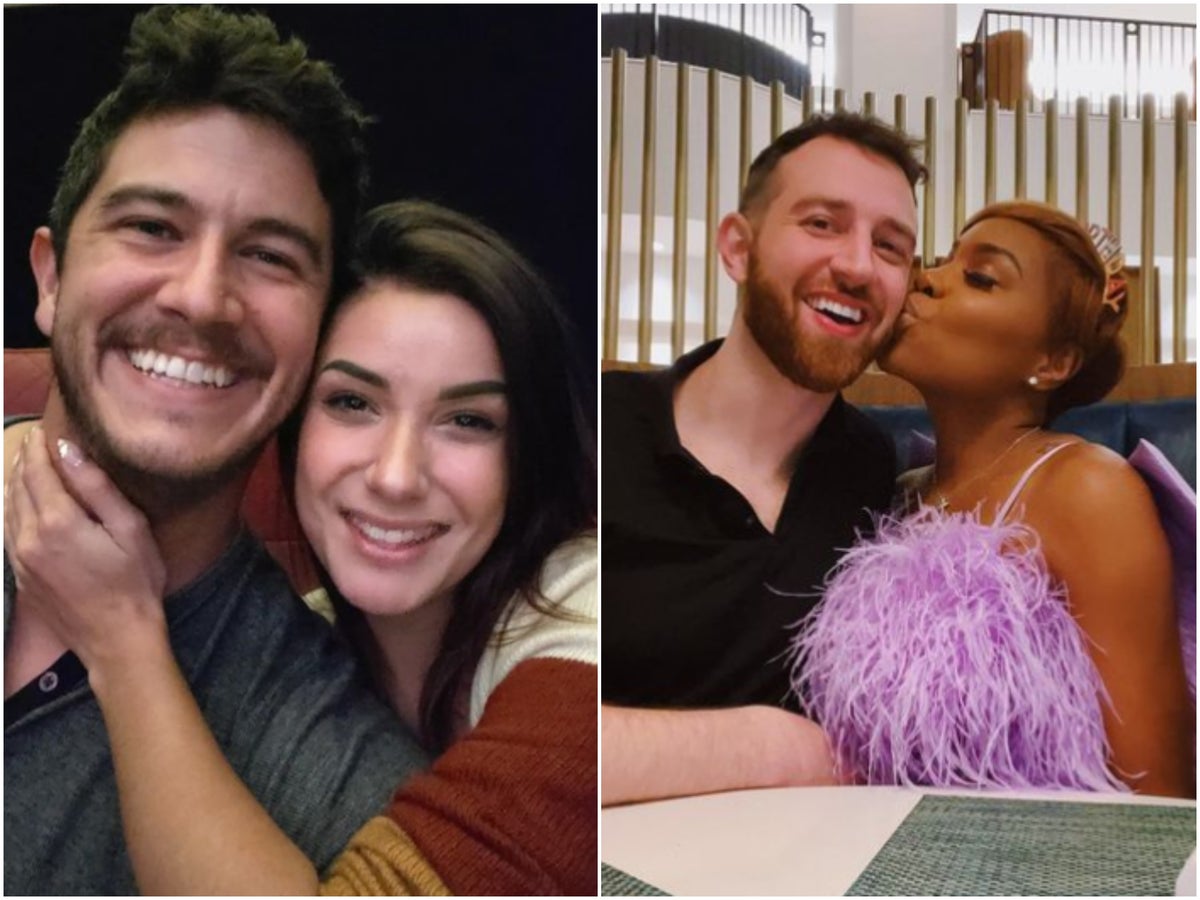 They have their own channel on YouTube. Both Amber Pike and Matt Barnett participated in Season 1 and are still together today (source: Women's Health), even though they were open and honest about their challenges after the program ended.
Regarding the second season of "Love is Blind," two couples also concluded that they wanted to stay married and are still together as of this moment. At the reunion for Season 2, Jarrette Jones, Iyanna McNeely, and Danielle Ruhl all revealed that they were still together in a romantic relationship. The climax of their respective love stories won't be revealed until much later.
What Really Occurred Between Danielle Ruhl and Nick Thompson, Stars of the Film Love Is Blind, That Caused Their Divorce?
In the second season of the famous reality series Love is Blind on Netflix, Danielle Ruhl and Nick Thompson's bizarre love story started. Even though they met through a reality TV dating experiment, the couple seemed infatuated with one another. After episode one, the couple got engaged due to their strong bond. The couple was married after the season, along with Iyanna McNeely and Jarrette Jones, another beloved pair among fans.
Sadly, Ruhl and Thompson's marriage hit a rough patch soon after the cameras stopped filming, much like other Love is Blind couples. In August 2022, the couple decided to split up after a year of attempting to make things work. Here is a summary of all the events that contributed to the famous couple's terrible divorce.
Jarrette Jones discusses the circumstances of his divorce from Iyanna McNeely in "Love Is Blind."
Jarette Jones is disclosing the reasons why he thinks his marriage to Iyana McNeely failed. On Season 2 of Netflix's LLove Is Blind, the pair got engaged naively but later separated due to lifestyle changes. However, Jones claims their relationship's timeframe was an issue from the beginning. "An idiot would claim that you are prepared to get engaged and be married in seven weeks while sitting on this chair.
However, I'll take the risk if there is enough for you to say, "You know what, I believe that I want to take this leap of faith," and something is drawing you toward this person. And although it cannot be successful in my situation, it can either be successful, "On the We Are the Brand podcast stated.
But after those seven weeks were done and we were now integrating our lives, we truly realised that we didn't know each other at all. He said we tried so hard, but it simply wasn't working.
According to Jones, the pair had been attending therapy three to four times a month since December 2021 to save their marriage. He claims, however, that he believes Iyanna was impatient with him and didn't allow him enough time to implement the lifestyle changes she urged. During the After the Altar special, McNeely criticized Jones' wild behavior.
She said that he would often return home around 7 am after a night of partying with friends. Her mother once confronts Jones inconsolably about how his actions impact McNeely. Jones's parents think Jones' buddies may be attempting to ruin his relationship by proposing he party as hard out of envy. But in the end, it was unsuccessful.